In winter, automatic covers are there to protect your pool from impurities and dead leaves. But to protect the cover itself, also affected by outside pollution, APF presents the Protect One 2.0, which acts as a protective screen from November to February.

This cover surface protector can be installed quickly and easily in less than 10 minutes for a pool of 8 x 4 m. Comprised of a 420 g PVC canvas that is coated on both sides, with a surrounding hem to catch leaves and dirt, it is placed on the cover's surface (except in cases where there are solar panels) using a universal fastening strap. These slide over the ends of the panels and into the eyelets, without damaging the pool edges.
The corners of the protector have a foam reinforcement for overall improved stability. Central holes have been cut out to filter rain water. In addition, cut-out spaces for steps have been provided for straight or angled staircases (with hem), for Roman steps (without hem) and also for the filtration units.
In order to preserve the perfect aesthetic during winter, Protect One 2.0 is available in the following shades: sand, clear grey, white and midnight blue. This protector should only be used during the winter months.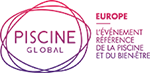 To be discovered at Piscine Global Europe in Lyon
www.piscine-global-europe.com