ZODIAC has been developing a number of connected and ecological products for the swimming pool market since several years. These connected devices can be controlled from the dedicated iAquaLinkTM application (on Android and iOS systems), and meet new needs that arise with home automation. Today's pool is automated and remotely controlled for the comfort of its owners.
AquaLink Tri
@Photo Sylvain Pretto

These products can thus be configured in an optimised way, using only the energy that is strictly necessary, for controlled and limited consumption. Together, they help to make substantial savings in water and electricity.

The Zodiac connected pool is ideally filtered through a variable speed pump, such as the FloProTM VS. It delivers excellent energy performance while reducing power consumption by up to 90% (compared to a single-speed pump). Ultra silent, it also ensures the desired acoustic comfort at the edge of the pool.
Flo Pro Variable speed pumps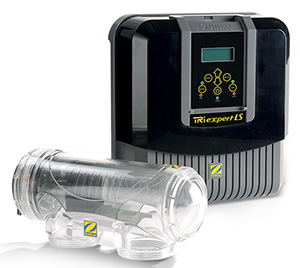 Tri Expert LS salt chlorinator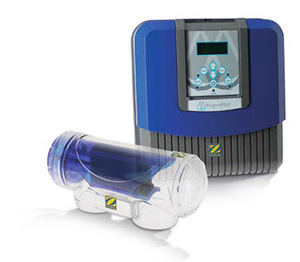 Magnapool system
To treat salt water, the Tri Expert LS salt-water chlorinator can be activated at any time using the AquaLink® Tri remote control box.

Equipped with low salinity technology, it requires only half the quantity of salt of a conventional chlorinator to disinfect the pool.

Another alternative that can also be controlled through the interface is the MagnaPool®, a water treatment system based on magnesium and potassium, which is harmless to the skin and eyes of swimmers, and allows disinfection of the pool without the addition of chemicals while respecting the environment.

In addition, its filter media made of pure glass crystals, less receptive to bacteria, requires a shorter washing cycle than conventional filters.

Water consumption is thus reduced by as much as 75%.

For cleaning, the RV 5480 iQ connected robot, combining cyclonic suction power and all-terrain mobility, is controlled from a mobile phone or tablet, using the iAquaLink!

Finally, for sheltered pools, or to extend the swimming season for outdoor pools, the heat pump ZS500, certified NF PAC, heats the water intelligently, thanks to inverter technology.

The user can choose between 3 modes: Boost, for the beginning of the season, Eco-Silence, during the bathing season and Smart, in autonomous mode, to maintain an ideal temperature by consuming the least energy possible.
All this, in a relaxed and quiet atmosphere.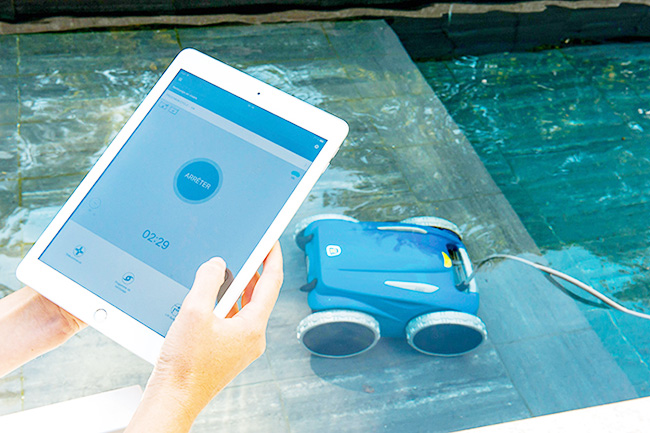 Robot control on a tablet
ZS500 Pool heat pump