The swim turbine of BINDER's HydroStar helps to persevere with training, without tedious turns. With its new, extremely compact and elegant suspension system, it can also be installed easily and quickly in existing pools.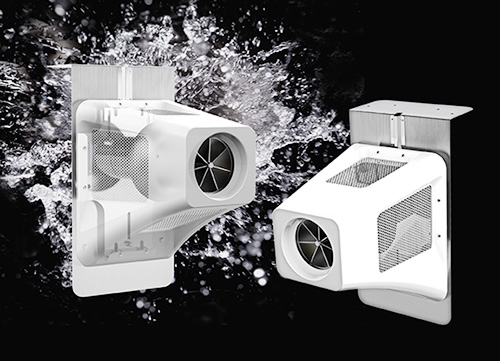 This system is different from other counter-current systems: While those only intermittently pump a stream of water over a part of the body, HydroStar creates a powerful, wide current that circulates evenly around the swimmer. The owners of small and medium sized pools are therefore able to get a stimulating workout without wasting time in endless manoeuvres.

A brand new suspension system makes it easy to install HydroStar in existing pools. The very compact and elegant device measures only 520mm x 536mm x 395mm (W / H / L) and is made of rugged, lightweight ASA ABS plastic. By using this material, the weight of the chamber has been reduced by more than 50% as compared to its predecessor.
The thickness of the walls of the chamber has also been significantly reduced, so that the counter-current system integrates discreetly and elegantly into any pool. Another practical and attractive option for renovation is the custom-made stainless steel staircase by HydroStar directly integrated inside and available at BINDER.