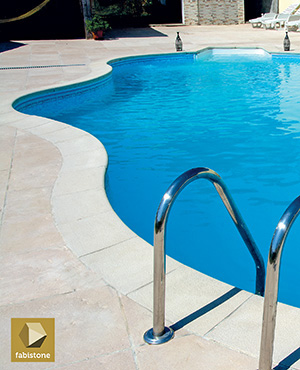 Fabistone surrounds meet the aesthetic and functional requirements that are essential when designing a swimming pool.
For the manufacturer, these elements must be considered as a comprehensive project and integrated into the construction and installation of a swimming pool.
In addition to its aesthetic role, the surrounds prevent rainwater and other impurities from flowing into the pool and allow users to enter the water safely thanks to their anti-skid properties.

Made from natural reconstituted stone, the surrounds are created from natural limestone rock, pleasant to the touch, and high strength hydraulic binders. They also have excellent non-skid properties, durability, and resistance to climatic aggression. Their structure, on request, is composed of elements that are curved, straight or inclined, to adapt to any type and size of pool.

The manufacturer's offer includes a wide range of textures and colours, in order to blend smoothly into all aesthetic requirements and adapt to all configurations.