Elite Connect, AstralPool's new salt chlorinator, received the Innovative Product Award at the Piscina & Wellness 2017 Exhibition in Barcelona.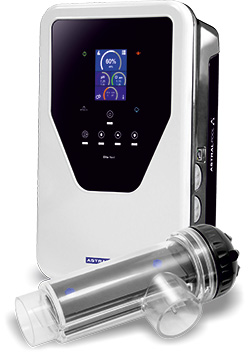 This salt chlorinator is recommended for residential pools of up to 200 m².
Elite Connect can run non-stop for 12,000 hours and has been specially designed to withstand aggressive environments.
In addition to treating water through salt chlorination, the salinity and temperature of the water can be monitored from the device's 2.8" TFT colour touch screen. It also comes with Poolstation® to which up to four pool units can be connected, such as a filtration or heat pump, and its settings can be controlled from an app.

The salt chlorinator has scalable control functions (pH, Rx, Cl ppm) via S. Driver® plug-in terminals and comes with a number of technologies. It has isolated Ethernet/serial ports (Modbus).
A a low-salt version is also available.