Fabistone presents its range of products for 2018 in its new catalog. Based on the experience gained over many years in the development and manufacture of pavements and copings, the Comppany offers in 2018 a set of products that can respond to all professionals' main needs.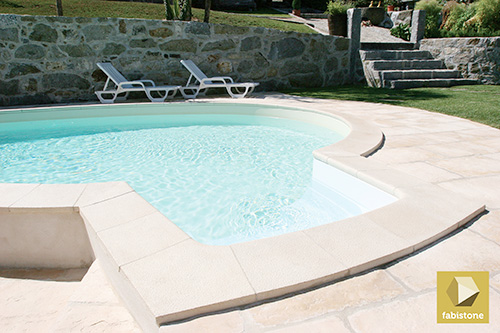 The 2018 Catalog range offers access to privileged technical information, such as datasheets or 2D and 3D CAD models, as well as access to a rigorous follow-up, from the manufacturing to the final installation of the product. This monitoring allows the professional to develop their activity with the guarantee that is acquiring a product that, due to its non-slip characteristics or its aesthetics and ease of installation, is among the most suitable products to be placed on the edge and surrounding of a swimming pool.

With a range of products, diversified in color and textures and made from reconstituted natural stone, from calcareous natural rock aggregates and high strength hydraulic binders, the professionals will have access to a referenced solution. A simple and easy solution which respects the high aesthetic and functional requirements of a swimming pool and its surroundings.

Fabistone owns a set of solutions designed to simplify the activity of a professional. Because of its fully automated industrial unit, the company was able to master the entire process of developing and manufacturing its products, thus being able to respect all the requirements and deadline.

Get to know in detail the Fabistone solutions when requesting the 2018 catalog range online: www.fabistone.com.