In 2018, the VORTEX water cleaner range will be expanded with the addition of an interesting model with Web connection, the RV5480 iQ.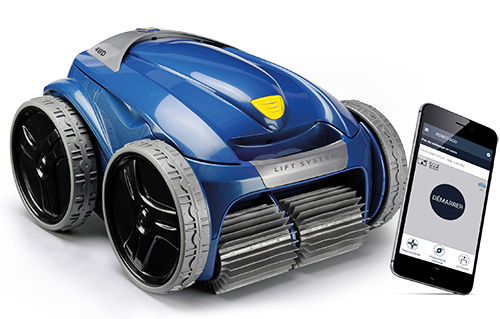 All the settings be adjusted and checked not only directly at the control box but also by means of a convenient app for smartphone or tablet.
You can thus start the cleaning process from your workplace, and when you come home in the evening you can swim in a perfectly cleaned pool. Alternatively, you can use the smartphone as a joystick and guide the cleaner through the pool by pressing the keys or by glide control.

Moreover, the RV 5480 iQ has all the advantages of the VORTEX PRO 4WD series. These include the series' cyclone technology, which uses intelligent guidance of the water flow to prevent the filter clogging and thus maintains highly effective cleaning power.
Similarly the all-wheel drive gives the cleaner additional grip and makes it easier to avoid obstacles, such as steps. In addition, there is a lift system for convenient removal of the cleaner from the pool. Another useful feature is the swivel, which reduces the twisting of the cable to a minimum.
The appliance has a three-year manufacturer's warranty and will be available from February 2018.

To be discovered at aquanale in Cologne