In order to answer the growing demand of the market, Ocea has invested in a new tri-extrusion line. The tri-extrusion process allows to produce a slat profile with three separate type of materials or colours.
The two colours combined in traditionally produced profiles will have a UV-blocking layer added on the surface of each segment of the cover. This new profile design will also prevent the formation of algae between adjoining slats.
The commercial name of these slat types will be : ECLIPSE

Advantages of ECLIPSE slats: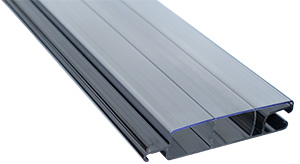 • Exceptional resistance to UV radiation thanks to an additional protective layer on top of the slats for an extended lifetime.
• Prevention of the formation of algae due to light-blockers in the hinge : open chamber and hook are foreseen of an additional black layer.
• Easy cleaning with special designed end-cap
• Buoyancy 10% higher than traditional slats
• Visually uniform over the entire surface (only waterproof chambers are visible)
• Can be assembled by clipping or by lateral sliding
• Available in many colours, including the best-selling Platinum and Cobalt, masking the condensation present in the slats.
• Compatibility with most existing profiles on the market.

Seen at aquanale in Cologne