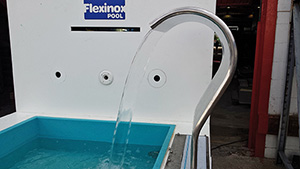 Filinox, S.A. is a company with a history of over 50 years, focused on the transformation of stainless steel rods and pipes for various industries.

The division Flexinox Pool is geared towards the production and marketing of accessories for private, and public pools and health centres.

Always committed to the creation and innovation of new product ranges, and following this approach, the Spanish manufacturer proposes the Cayman family: a collection of accessories for pool animation, especially oriented towards well-being: waterfalls shower, water cannons, etc. in AISI 316L quality, with a new concept, new designs and competitive prices.