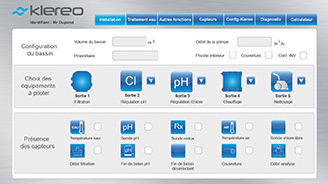 Drawing on its experience of over 20 years in automotive electronics, the Research team at KLEREO developed its products for operating and automating pool equipment, with state-of-the art technology and features.
The new and comprehensive Klereo Diag™ tool serves as an intuitive interface that communicates with the on-board electronic systems of the Klereo devices installed. It ensures the optimal configuration and use of these devices.
A full diagnosis of possible breakdowns is carried out, with a display of the operating history and energy consumption, water, and treatment products. Klereo Diag™ also analyses the key water parameters: pH, TH, TAC, cyanuric acid, free chlorine, total chlorine or bromine, specifying, with the help of its integrated calculation software (update is included), the dosages and actions required to restore the balance of the water.
This tool is therefore a valuable assistant to, firstly, ensure pool owners optimal maintenance of the pool water and, secondly, to enable pool builders to develop their service business and make their task easier when installing products.

To be discovered at PISCINE GLOBAL 2014 in LYON, Stand 4E96