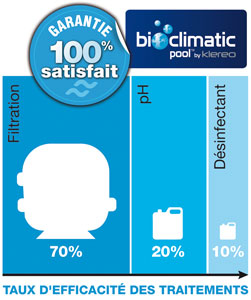 Klereo launches its «100% Satisfaction Guaranteed» campaign, from the 15th of April to the 30th August 2011, to encourage professionals to offer their customers an upgrading of the quality of the water in their swimming pools.
The company relies on the fact that, for the most part, pool owners are willing to invest up to 15% of their pool costs (structure and equipment room) for clean and crystal-clear water ensuring that the health of the swimmer is protected.
With BioClimatic Pool® concept, Klereo offers water treatment solutions that are indispensable, and complementary: filtration, maintaining of pH balance, and control of disinfectant levels.
In France, over 150 swimming pool specialists have already accepted this proposal. They have undergone training in these products and solutions in order to obtain the «Klereo Expert» quality label.