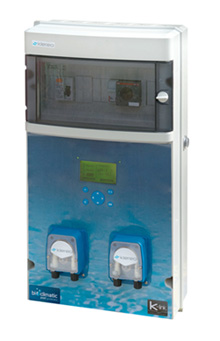 Klereo presents one of its new products in terms of swimming pool equipment: the Kompact +.
An upgrade of the Kompact system, this device is equipped with the Bioclimatic Pool technology, enabling users to adapt filtration to the requirements of treating swimming pool water, in order to ensure the best possible quality of water in terms of respecting the environment. It manages the essential functions of water treatment, such as regulating the pH. Indeed, it permanently maintains the equilibrium pH and prepares the water for an optimum disinfection process.
Disinfecting is also adjusted depending on the type of treatment chosen: chlorine, salt electrolysis, active oxygen or bromine.
However, there are yet more functionalities: Kompact + also checks the filtration cycle based on the use and bioclimatic requirements of the pool, thus enabling you to save up to 68% of energy in terms of using the filtration pump. It is perfectly suited to pools being built as it integrates the pool's filtration unit and the transformer for the lighting.