Among the plethora of new products introduced by the
Italian manufacturer MICRODOS s.r.l.
, the « Simple » line stands out from the rest.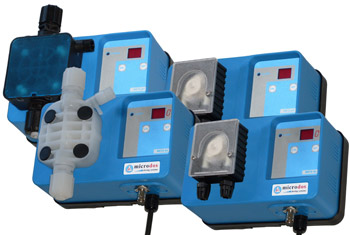 Innovative and composed of measuring pumps for swimming pools, it is designed to regulate acid and chlorine levels.

The pumps circuit board features an integrated control device for proportional dosing that displays the measurements in real time on a digital screen, whilst being smaller and less expensive than an external control device.

This product was designed for the increasing number of private pools (up to 200 m³), which do not require complex programming.

The settings have been maximally automated thanks to a powerful microprocessor that controls the electronic chip, thus minimising the amount of manual programming required. Simply calibrate the sensor by pressing « CAL » and configure the set point by pressing « SET ».

The « Simple » line is available in peristaltic version (MP1S-pH, MP2S-Rx) and in electromagnetic version (ME1S-pH, ME1S-Rx).