At the end of July 2014, Verder Liquids B.V. and Microdos Srl signed an intensive cooperation agreement for the worldwide distribution of Microdos products under the VERDERFLEX brand name in order to offer their customers the best dosing solutions for swimming pool water treatment.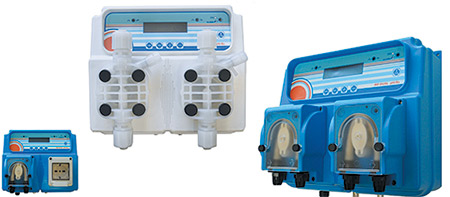 To this end, the two companies will introduce a new product range, DUAL, composed of ME DUAL electromagnetic pumps, MP DUAL peristaltic pumps and ME REG and MP REG combined electromagnetic pump and electrolytic cell or peristaltic pump and electrolytic cell.
The DUAL system has a combined pH/Redox and temperature instrument (pH/Chlorine will soon also be available) and two pumps in order to provide a complete and functional dosing system.
The instruments in this new product range have a fully programmable menu in 4 languages: English, Italian, French and Spanish. All versions have a freely programmable "pH stability" function, guaranteeing the complete disinfection of your swimming pool.
The large backlit display gives a clear reading of water values and programme settings. The IP65 casing can accommodate various inputs for level sensors, flow sensors and ON/OFF switch.