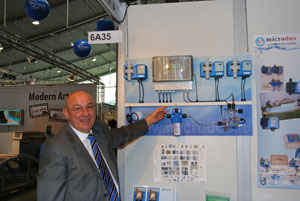 Microdos is one of the first Italian companies producing and selling control systems and dosing pumps for the treatment of drinking, waste and pools waters. With his personal presence and through EUROSPAPOOLNEWS's media, Alessandro Mostarda, CEO of Microdos, decided to invest in the emerging markets of Eastern Europe.
«These are markets that will bear fruit in a few years, but now you have to sow» says the entrepreneur from Rieti.
The company is ISO 9001 certified,and includes in its staff people with years of experience in the field of metering and measurement. Their vast experience allowed them to design and implement a wide range of high quality, innovative and versatile products.