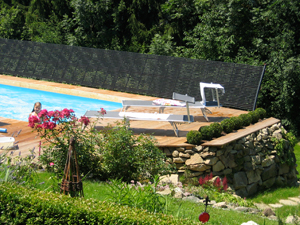 The new
"Modul"
concept developed by the German manufacturer,
Solar-Ripp®
, offers solar heating surface areas of up to 800 square feet (solar collector area). This allows heating of private swimming pools to comfortable temperatures in a CO2-neutral and resource-friendly way by solar energy.
This new range uses flexible solar tubes, which offers virtually unlimited design possibilities. In this way, for instance, radii on barrel roofs and curved contours of flat roofs or walls are no obstacle anymore to solar thermal utilization.
The product line consists of only 5 different elements, which can be plugged together anywhere, without tools and according to local requirements and space conditions (on a flat or sloping roof, etc). Optimum thermal performance parameters are achieved through the innovative ribbed tube design, which increases the effective solar heating surface by a factor of 3.2.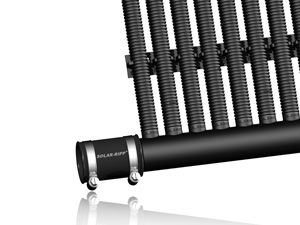 All structures are made of Propysol
, the new and extremely durable high-performance plastic used by the manufacturer, which is UV, chlorine and salt water resistant. As this material even resists biting attacks by polecats or martens, it can be installed directly on permanently exposed, open ground.
The
"Modul"
system feeds the solar heat directly into the swimming pool water, which runs through the solar collector, without additional heat exchangers. This technology pays for the initial investment, including the primary energy used for its manufacture, within only a few years. From then on it provides free solar pool water heating for many years to come.