With its original and innovative design, the solar pool heater "Modul" from the German manufacturer SOLAR-RIPP® succeeded in one of the most renowned and hardest international design competitions worldwide: the red dot award. In the product design competition, it was awarded the "red dot" quality seal for high design quality by the top-class expert jury.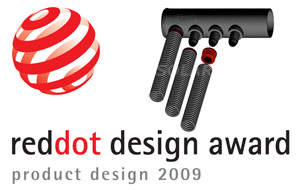 This award is only conferred to particularly creative, innovative, and high-quality products. In total 3,231 products from 49 nations faced the expert judgement this year.
The festive awards presentation with more than 1,000 guests will take place on 29 June 200
9 in the Essen Opera House, the Aalto Theatre.
"
Successful products are in so far different from less successful products that they can survive in the real world
," explains design expert Professor Dr.
Peter ZEC
, initiator of the red dot design award.
Products submitted to the red dot design award are assessed by an international jury consisting of renowned design experts. They examine and test the products and assess them according to criteria such as degree of innovation, functionality, ergonomics, longevity, ecological compatibility and clarity of function.
The exhibition of the winning products in the red dot design museum
Together with the other award-winning products, SOLAR-RIPP ® < Modul > will be on display from 30 June to 26 July 2009 in the exhibition "Design on stage – winners red dot award: product design 2009" at the red dot design museum on the premises of the 'Zeche Zollverein' World Cultural Heritage Site. With approximately 1,500 products on more than 4,000 m
2
, the red dot design museum houses the largest permanent exhibition of contemporary design worldwide.
Awards ceremony
:
29 June 2009, 6pm in the red dot design museum, Essen, Germany
Special exhibition
:
30 June 2009 to 26 July 2009 in the red dot design museum, Essen, Germany