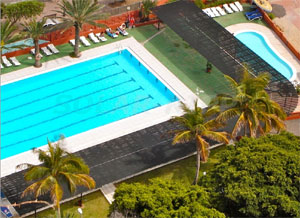 Whereas in mid-summer outdoor pools temporarily reach the desired temperature "all by themselves" (with a bit of luck), during the rest of the time they fall a few degrees Celsius short of that "feel-good" level. In cooler times of the year in particular, the unheated outdoor pool is really only for the hardened swimmer.
SOLAR RIPP professionals are often asked which heating methods are appropriate, economic and efficient.
Conventional heating systems are expansive
Conventional heating systems using gas, oil or electricity are not likely to satisfy the sustainability and efficiency criteria set by discerning operators. If a private pool runs up a heating bill of €500 - €2,000 per season depending on size, the cost of fuel going up in smoke to heat larger hotel and outdoor public pools can increase to somewhere between €5,000 - €50,000 per year. Multiply this expenditure year upon year over a mere ten-year operating period and any management expert would soon give up on the sums!
Thermal heat pumps need maintenance
Although the use of thermal heat pumps theoretically still looks attractive in the glossy brochures, it is easy to forget here that these "miracle machines" do in fact consume a substantial amount of conventional energy and, rather than being pumps, these units are actually machines comprising a large number of internal components and assemblies. Many an operator is taken by surprise at the end of the year at how much more conventional energy has had to be supplied to the machine at great expense. Putting up a huge box in the garden does nothing to enhance the garden either, and many operators find the permanent running noise annoying. Routine maintenance on these complex units is an additional burden on the purse, and a total failure occurring after a short period of operation is not unheard of.
Benefits of thermal solar systems
A heating method to warm pool water which is in keeping with the times comes in the form of thermal solar technology by means of solar absorbers. The two factors supply (sunshine) and demand (the wish to cool down) are perfectly matched here. Quiet as a whisper and low-tech to assemble, every square metre of absorber surface industriously collects thousands of kilowatt hours daily which are fed into the pool water without the use of heat exchangers which themselves lose a lot of heat. It scores by the mere virtue of its simple and uncomplicated construction and because of its very long life with a maximum level of operating reliability. An absorber cleverly positioned out of sight can produce warm water up to +30° C over decades at zero cost, added to which, the water heating takes place during circulation, not whilst stationary!

The clue to this definitely lies in the ribbed construction of the SOLAR-RIPP® swimming pool heating system, winner of several awards. Totally maintenance-free and with a low one-off purchase price (with an amortisation period of just a few years), this technology exploits an infinite energy resource - the sun!
Below are six hotels among those who use SOLAR-RIPP ® solar-heated pools with satisfaction:
Hornburg municipal swimming pool

(reviving break in the North Harz mountains)

Borgholzhausen outdoor swimming pool

(walking holiday in Teutoburg Forest,

North Rhine-Westphalia)

Bosenheim swimming pool (holiday in Nahetal

with a view over the surrounding vineyards,

Rhineland-Palatinate)

Beerfurth outdoor swimming pool near

Reichelsheim (enjoy the fresh air of the

Bergstrasse nature reserve, Odenwald, Hesse)

Hotel Playa Park Corralejo (on the trails

of the volcanic island of Fuerteventura)

Mas de Laval country estate

(experience peace and quiet in

Provence)