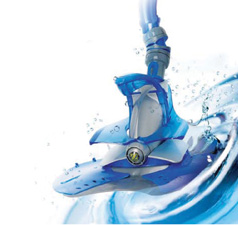 This new hydraulic robot by
Zodiac
operates with open skimmers, which guarantees perfect results since debris on the surface, floor and walls are eliminated in one single operation.
The system is equipped with
Quattro Traction Control
, which ensures of 4x4 movement to cover walls and optimally clean the floor and angles. This technology is based on
4 patents
:
Dia Cyclone : the most powerful suction motor.
Flex Connect : for a very high cleaning rate.
Flexible 4-part disc : best adherence in angles and on walls.
Twist-Lock : secure connection without loss of suction.