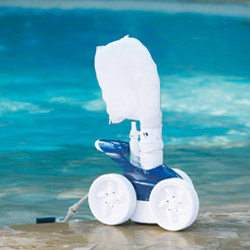 Polaris 480 combines design and performance and is ideal for swimming pools of bigger dimensions.

The device has latest generation pneumatic Wide Trax that give it a remarkable ease of manoeuvrability.

Its flagellate helps in cleaning the parts of the swimming pool that are difficult to access.

Its random movement combined with the action of its automatic recoiling valve and its directional jet optimises its path and helps in avoiding the blocking of corners or ladders.

It has a very high resistance to external stress (corrosion, decolouration because of UV…) and offers an innovative design thanks to its translucent body.