Swimming is more enjoyable if the pool water is clean and sparkling, preferably without chemical sanitizers. For children and people with sensitive skin or allergies, in particular, crystal‐clear and chlorine‐free water is essential for swimming enjoyment.
So Starline proposes a combination of ozonator and ionisator.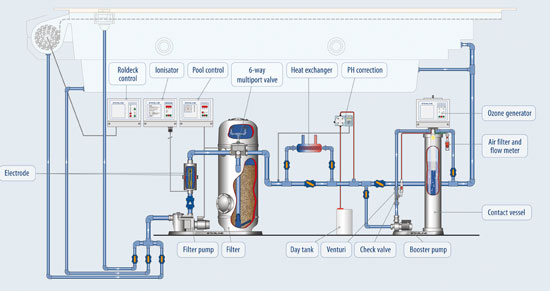 Positively charged copper and silver ions in combination with ozone purify the water of all micro organisms such as bacteria, fungi, viruses and algae. Water ionisation and ozone oxidation are natural processes that Starline has harnessed, resulting in a unique method for keeping water clean. It reduces the use of chlorine to such an extent as to all but eliminate it. And the pool water is completely disinfected with no odour.
The system can be applied to all existing swimming pool installations. It is suitable for all types of existing and new private pools (up to 200m³) and is virtually maintenance free. The pool water is purified entirely automatically.