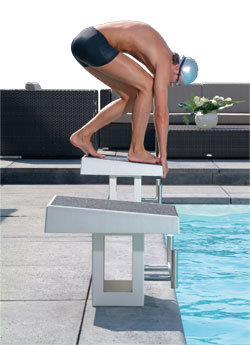 The Dutch Dolphin is up to speed and after a couple of strokes he taps the side. Pieter van den Hoogenband trains in his own pool. Normally he does so at the brand new Dutch National Swimming center in Eindhoven, but during the holidays he uses his own Starline Modular pool in his garden to keep his muscles toned.
After all, top athletes have to stay in shape.
The Olympic Games in Beijing are rapidly getting closer and there Pieter will face the ultimate challenge: Olympic gold in the 100 metres freestyle for the third consecutive time.
Pieter is Starline swimming pools' ambassador. "I enjoy my pool in a lot of ways," he explains. "First and foremostly, it's great to be able to take a regular dip in it. Just to relax. Furthermore, I also use the pool for training purposes. It is hard to get pool time at the Dutch National Swimming center over the weekend but you nevertheless have to maintain your rhythm. It's at times like these that a Starline pool is a real life saver".