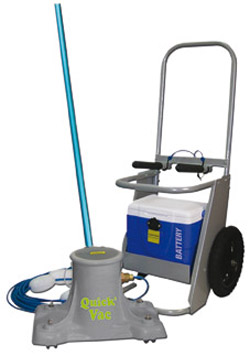 Hexagone's new manual brush, Quick Vac', is light and portable.
It is battery-operated and makes it possible to clean a pool of 10 x 5 minutes in less than 7 minutes.
It is equipped with four wheels that can revolve up to 360° and an integrated high-capacity 105 microns bag filter.
It ensures fast and effective cleaning, even in the corners.
It is delivered with a trolley
and can be moved around easily and completely on its own.

The product is available in 3 versions:
a
conventional version,
a
special fountain-paddling pool version
that lets it suck from 10 cm of water and a
big pool version
.
With one out of every two swimming pools in France being equipped with one of our robots, today, Hexagone is one of the leader in French market in the field of manufacturing vacuum cleaner robots for public and collective swimming pools.