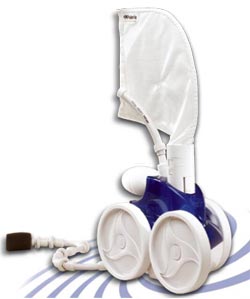 Polaris 380
Polaris 380 consists of 3 fountains that give it a strong suction and fast cleaning capacity for a perfect cleaning of all private swimming pools up to the largest sizes.
It has a compact cover so as to make it easy to move.
It is very light and provides an optimum cover and complete cleaning of the bottom and the inner walls of the pool.
A belt-driven transmission system increases its speed. Lastly, it comes with a bag with integrated mounting brackets for simple and fast installation and maintenance.
Email: info@zodiac-poolcare.com
Url: www.zodiac-poolcare.com