Death of the former owner of Hayward Industries at the age of 95
Oscar Davis, former chairman and owner of Hayward Industries and legendary vintage car collector, died on Thursday, February 25, 2021, in New York City. He had just celebrated his 95th birthday.
He set foot on American soil at the age of 3
Oscar 'Davidovits' was three when he and his family landed on Ellis Island in 1928. After various apprenticeships as a tool maker, a trade he had learned from his father, he started his own small machine shop that produced specialty plastic fittings for the emerging industrial plastic piping business, an innovation used in the chemical and water treatment industries.
In 1964 he acquired the small Hayward company, which has grown into a large global company today
In 1961 he sold The Oscar Davis Company, and then in 1964 he approached Irving Hayward to acquire his small metal fabrication business that is known today as Hayward Industries.
Taking his expertise and background in the use of industrial plastics, he positioned the business as one of the first to engineer swimming pool products using plastic components. Through organic growth and strategic acquisitions, Hayward expanded into a global enterprise, employing more than 2400 employees worldwide, and today remains a robust leader in the swimming pool industry.
He became a car enthusiast during the war, and began collecting and restoring cars in the 1950s.
In 2002, Davis was awarded the Ellis Island Medal of Honor, for his distinguished achievements in business and service to the country.
One of his sons, Robert Davis, succeeded him as president of Hayward Industries and in 2014, at the Lyon trade fair, he celebrated the 50th anniversary of the company's creation and the 40th anniversary of their presence in Europe.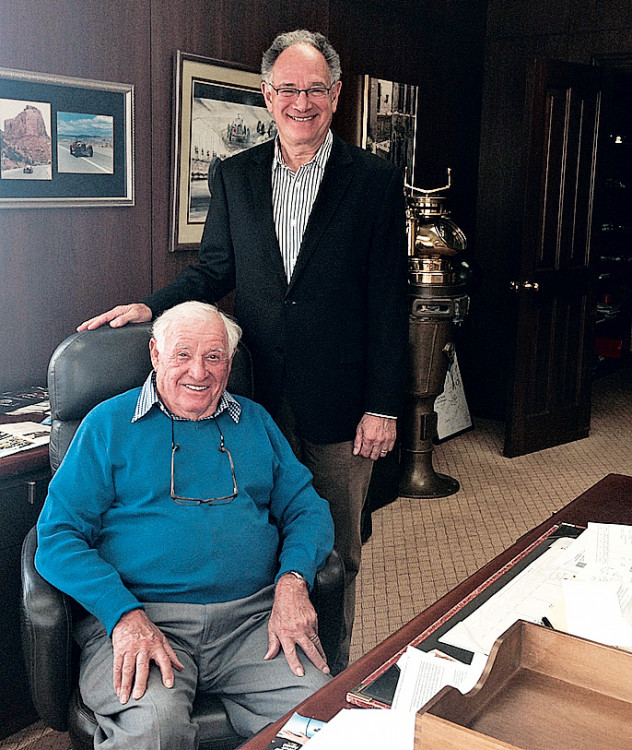 Oscar Davis and his son Robert, President of Hayward Industries, in 2014
Henri PERUCHON, creator of CEC, remembers...
A few words from Henri PERUCHON, creator of CEC and fervent contributor to EuroSpaPoolNews since its launch, who has met Oscar Davis on several occasions:
"I met Oscar Davis when Marcel BALSAT, Director of Hayward Europe, suggested in the 80's that I import Hayward products (filters, accessories...) from the USA. I had the privilege to meet Oscar, a smiling and very French speaking man. Over the years of working with his company, friendship was forged between us. He made me discover his passion for old cars and visit his collection. As a lover of France, I had the pleasure of receiving him in my house in Saint-Tropez, with his wife, a great lady full of delicacy and rich in knowledge.
All our meetings at trade fairs, in his factories or in private were exceptional moments of happiness.
EuroSpaPoolNews joins in this tribute to send together our condolences to his family and especially to Robert Davis, whom we often met. "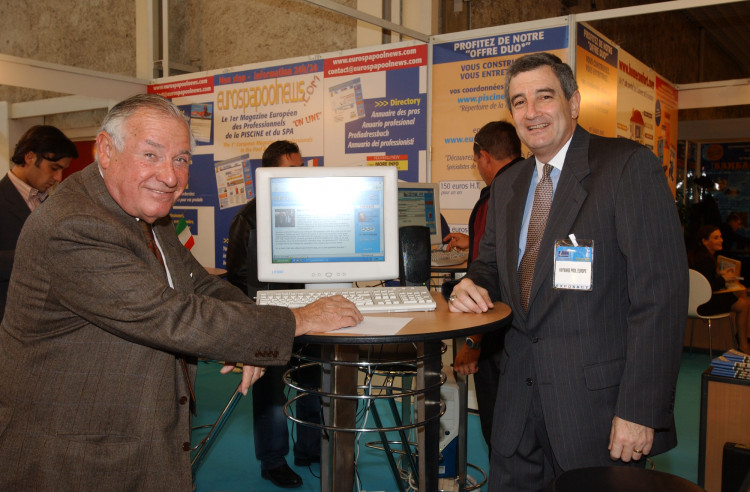 Oscar Davis and Bruce Fischer, on EuroSpaPoolNews stand at Piscine Exhibition in Lyon 2002