The Association of Pool & Spa Professionals (APSP) is proud to announce that S.R. Smith has renewed its platinum level partnership through 2018. The platinum level partner sponsorship is the premier corporate sponsorship level for APSP.



Lawrence Caniglia
APSP President
& CEO
"We are enthusiastic about continuing our partnership with S.R. Smith," said APSP President & CEO Lawrence Caniglia. "S.R. Smith's ongoing support will be invaluable to our success and will ensure that we can continue to move the pool and hot tub industry forward."

S.R. Smith, based in Canby, Oregon, is a worldwide leader of residential, commercial, pool access and lighting products. Founded in 1932, S.R. Smith is headquartered in Canby, Oregon with additional manufacturing outside Nashville, Tennessee. The company's Australia operation is headquartered in Queensland. S.R. Smith products are featured on some of the finest pools around the world.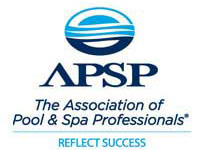 "Partnering with APSP is a tremendous opportunity for us to further enhance our commitment to the pool industry," said Margaret McGrath, Vice President - Marketing. "We look forward to working together to further the industry."

The APSP Partnership Program is an effective method for a corporation to support the mission of APSP. A variety of partnerships are available to help companies with an interest in the diverse and lucrative pool, spa and hot tub industry reach a unique audience of aquatic professionals.

For more information about APSP Partnership and Sponsorship opportunities, visit APSP.org/Sponsorshipsor email Seth Ewing.