At the heart of the Ocea International research, design and delivery team is Stefaan Spitaels who, from an engineering and production to delivery background, joined Ocea in 2008 as sales and after sales manager and was confirmed as sales director, last year.
Stefaan SPITAELS: Ocea stands proud, providing the best quality slatted cover available on the market to its clients, combined with the best customer service possible," says Stefaan who takes responsibility for the business development.
Which countries are you working with and how do you want your short term business to expand?
Stefaan SPITAELS: Our current markets are mainly Belgium, UK, Switzerland, France and other EU countries. We are increasingly responding to demands, not just in Europe, but from other continents like the US, Russia, South Africa and Australia, where we have the ambition to explore the markets and expand our market shares.
Why should trade customers be considering Ocea – ie how do you stand out from the crowd? Your products? Your manufacturing? Which are best selling points?
Stefaan SPITAELS: Our after care service supports our clients during the entire installation process. We train the technical staff of our trade company clients both in the classroom and with on-site training. We can even cater for special requests to take on the complete installation of the cover on their behalf.
"Ocea International stands proud providing
the best quality slatted cover available on the market to its clients,
combined with the best customer service possible."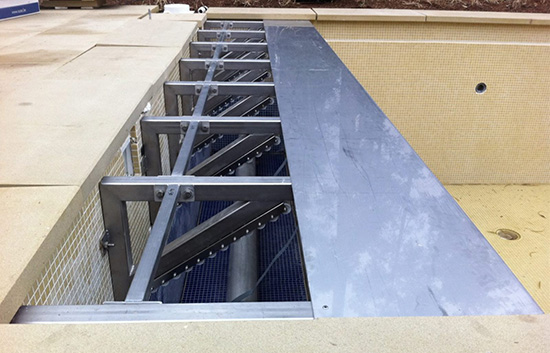 Brackets with reinforced wheels for heavy coatings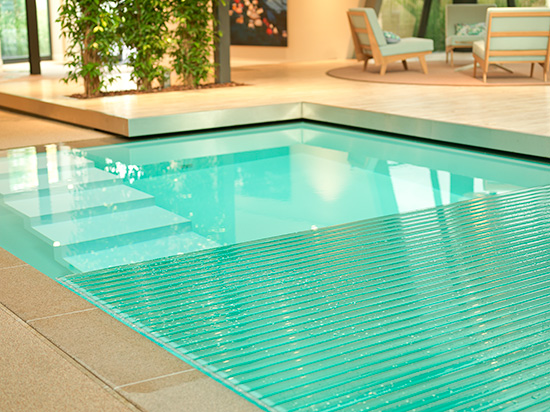 Lagoon colour
Stefaan SPITAELS: Ocea International is the only automatic slatted cover manufacturer who has its own extrusion factory for slats. The PVC and Polycarbonate slats are extruded in-house, thus allowing complete control of quality and flexibility of design to meet customer requirements.
This flexibility allows us to develop a broad range of slat colours in both PVC and PC, and to be in full control of quality and lead times.


How will order to delivery be improved with new manufacturing changes?
Stefaan SPITAELS: The production process has changed from just-in-time to buffer-stock production bias to significant investment. During off-season a stock of slats will be extruded, ready for the next season.
A new Production Control system is being implemented. This new production process will allow us to have full control over stock levels of spare parts and raw materials, thus avoiding backlogs but also increasing productivity which results in shorter leadtimes.
Examples of stand-out projects in which Ocea has made a difference?
Stefaan SPITAELS: Ocea is not only a cover manufacturer but can also bring solutions to complex covering projects where there's a need for one shot design. Our engineering department is experienced in designing all kinds of heavy duty structures, fixed and motorised hatches, stand-alone above ground systems etc.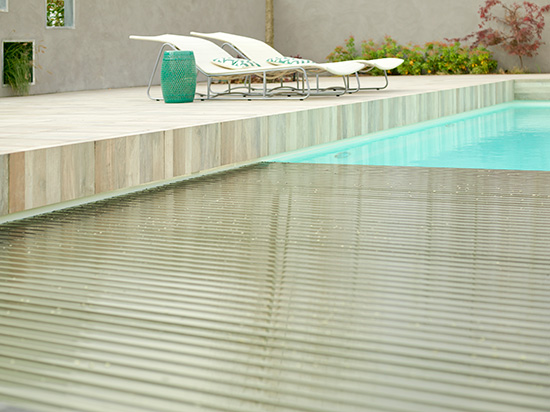 Gold colour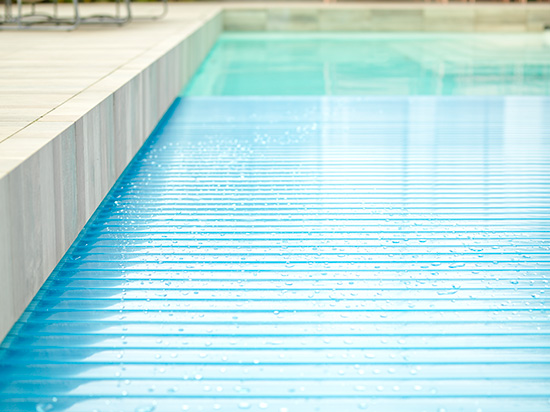 Ocean colour