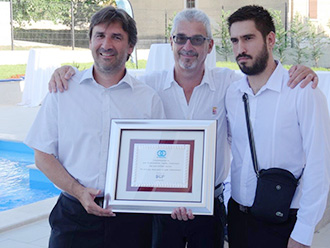 Lado and Leo Lačen with in the center M. Luigi Bertot - Regional Manager (Italy)
This summer, SCP Europe, SCP Italy and their Croatian partner since more than 10 years, E-Grupa / Eurostil, invited more than 100 customers and officials for an opening day.
In a friendly atmosphere, clients were presented a reinforced Croatian structured and an improved stock capacity to fit market demand.
It was also a moment to congratulate Lado and Leo Lačen for the big and beautiful spa creation they have done for company Maistra.
40 Cove spas have been installed in city Rovinj - camp Polari and same numbers in city Vrsar - camp Valkanela.
This work has been made in a very optimize time:
40 spas installed in 5 days:
●
For Polari : 14 cove spas installed in two days and than 26 spas in 3 days + 1 day for cover mates at Polari
●
For Valkanela: 40 spas in 4 days + 1 day for cover mates