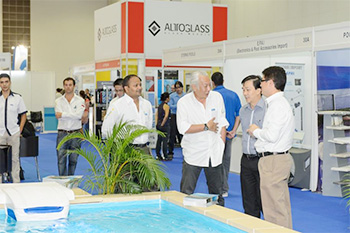 The third edition of Piscine SPLASH! Asia was held from 20-21 May 2015 at the Marina Bay Sands, Singapore. Piscine SPLASH! Asia had strong participation with more than 120 exhibitors and brands from 18 countries, and 1,100 attendees across the two days from 29 countries.
Visitors from Malaysia, Singapore, Thailand, Vietnam, Indonesia and Philippines comprised 14% of the market. In Southeast Asia, Piscine SPLASH! Asia attracts visitors from key countries in SE Asia including for the first time the Maldives. Interest stretched as far as the Middle East with a number of buyers from the Arabian Gulf.
As the premier pool and spa event in the South East Asia region, the biggest names in the industry were represented, including Pentair (platinum sponsor), Australian Innovative Systems, Fluidra, Herborner, Speck Pumpen, Bombas, HornerXpress, Maytronics, Hayward, Heliocol and many more. There were also several local companies, including Advanced Marine, Water Co, Proserv and SG Hardware.
Visitors of Piscine SPLASH! Asia included pool construction and installation professionals, pool and spa maintenance companies, general construction companies, distributors, landscapers, architects, public authorities and many more.
A new feature of Piscine SPLASH! Asia was the Pool Vision Awards 2014, with the winners being announced on the 20th May. Pool Vision 2014 was open to all qualified architects, interior designers, pool designers from any country in the region. Congratulations to the winners Guz Architects (Private Pools), P Landscape Bangkok (Public/ Hotel Pools) and DBALP (Spa).
Another new feature to Piscine SPLASH! Asia was the speed meetings between exhibitors and visitors, allowing networking through a series of 20 minute interviews. This free platform assisted visitors in looking for a supplier, planning an aquatic leisure project or finding a distributor. Nearly 200 meetings were organized.
The free education program on the Piscine SPLASH! Asia show floor was well attended, and featured 8 industry experts speaking on topics including drowning detection technologies, water parks, water disinfection, wellness, suction entrapment avoidance, water treatment and wave pools.
Piscine SPLASH! Asia signed 2 partnerships with professional associations involved in pool building (private and commercial): MSPA (Malaysia), SISO and Sport Singapore.
There was also an exclusive site visit to the world's largest aquarium - Southeast Asia Aquarium on Sentosa, where visitors were able to go behind the scenes of the Great Ocean Habitat and see its filtration and machinery.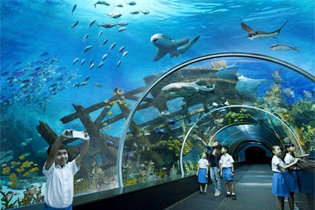 Southeast Asia Aquarium on Sentosa
Dates for
Piscine SPLASH! Asia 2017
will be announced shortly.