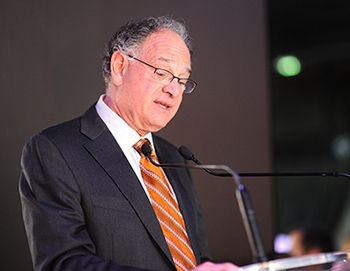 Robert DAVIS
Hayward took advantage of the Piscine Global exhibition to celebrate its 50th anniversary.

It was 50 years ago that Oscar Davis acquired Hayward, injecting the company with a new dynamism. Making a special trip to Piscine Global from the USA for the occasion, his son, Robert Davis, revisited the company's history.

Recalling the significant events that marked Hayward's history and achievements, he thanked the employees, customers, distributors and partners who work for the company and who contribute each day to its success.
He emphasised that the global success that the group attained right from its inception was the result of the ingenuity of a number of people, starting with his father, who came up with the idea of introducing plastic in the manufacture of swimming pool equipment.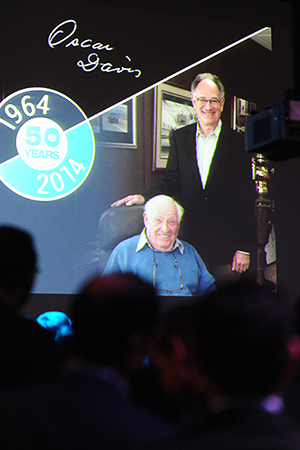 Oscar and Robert DAVIS
Since then, Hayward has continued to push the boundaries.

The company has nine ultra-modern factories around the world with 50 people dedicated to research and development, with quality as its watchword.
Today, the company offers one of the most comprehensive ranges of pool equipment in the industry.

The celebration also coincided with the 40th anniversary of Hayward Pool Europe, a subsidiary of the American group, based in Saint-Vulbas in France since 1999.
Managing director Géry Hayart emphasised Hayward's commitment to adapt to various world markets, and to implement local policies for each of them.
Thanks to this understanding of the expectations of diverse consumers, Hayward can take great satisfaction in having risen to a position among the world's leading companies, and to show continued growth, despite the difficult economic environment.
It was the time for festivities in this month of November 2014, when, to celebrate this anniversary, 250 clients and partners were invited to thank them for their loyalty to Hayward.

The event took place at DoMo, a Lyon restaurant reputed for its fine and modern cuisine, embraced by the Rhône and the Saône, entirely decorated in a water and seabed theme for the occasion.


Immersed in an abyssal universe, the guests were welcomed by musicians submerged in giant bubbles, magicians juggling with soap bubbles and contortionists that looked like sirens.

The decor and ambiance, with variations of the aquatic theme (giant jellyfish, water bubbles lit by LEDs, etc.), invited the customers and partners attending the soiree to enjoy a truly relaxing, sociable and sharing moment.


Hayward joyfully celebrated the anniversary by offering its guests a magical and festive time and promised another great celebration in 50 years!