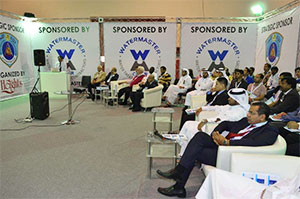 Within the framework of the last QPS exhibition held in Doha, Qatar, from 6th to 8th November, an important conference was held over 3 days on security and maintenance of pools and spas. For the occasion, we met Pierre Boueri, the initiator of the conference and the founder, a few months ago, of the PASSA (Pool And Spa Safety Association) in Qatar and Lebanon. He is also the CEO of Al Miyah Holding Group and Managing Director of WATERMASTER (QATAR).

We took the opportunity to revisit with him the trajectory which brought him to Qatar, after which he spoke passionately of his involvement in the conference; a conference which should result in creating standards at the government level.
EuroSpaPoolNews / Loïc Biagini: "Pierre Boueri, tell us about your career and how you established yourself here in Qatar?"

Pierre Boueri / WaterMaster: "I came to Beirut in 2005 to create the Watermaster subsidiary in Qatar. It was my father, Khalil Boueri, who founded the original company in Beirut, Lebanon, in 1980. It is a Lebanese company that is into constructing pools, water treatment products, wastewater treatment, fountains and well-being centres. We do the same thing here in Doha in partnership with Investment Holding Group, whose Chairman is Mr Al Ghanem Al Hodaify Kuwary".
"How many people does the company have in Doha?"

PB: "250, with 5 operational departments, including a Civil Department, an Electro-mechanics Department, an Architecture Department and Project Management Department. We do not have subcontractors, we manage all projects from A to Z".

"How is the Group structured?"

PB: "I am the CEO of the Group, my brother is the Managing Director and my sister is the Marketing Manager. Our father is still Chairman of the Group.
My brother is also the Managing Director of Watermaster in Lebanon and my sister Nathalie Boueri, the General Manager of Watercenter. All of us have dual functions.
This represents a total of 400 people. All the companies are independent, each with their own strategy and marketing. The Holding ensures the synergy between the companies and departments. Only the subsidiary Fluidesign, for studies, is located in Beirut. It works with international partners for all the entities".
"Do you only work in Qatar?"

PB: "No, we also carry out projects elsewhere and our strategy covers the entire Middle East and North Africa. We have a dedicated Project Management team, which can act in the MENA region, particularly in Syria, Bahrain and Saudi Arabia. We have plans for opening in Dubai, the United Arab Emirates and other countries, when the economy improves".

"How are the sectors such as pools, well-being, fountains and water treatment split up in your various departments?"

PB: "Very good question! That is why the group is called Al Miyah (which means "water" in Arabic); we are really focused on Water. Here in Qatar, most of our projects consist of creating fountains and well-being centres. There is a lot of rivalry and competition as far as swimming pools and water treatments go, and it was a real market demand. In Lebanon, it is the opposite, most of our projects are for treatment of water and wastewater and swimming pools. That is why we created the holding company, to create a synergy, because each sector has its own added value.

In 2014, Watermaster will have two divisions - one that focuses on Treatment and the other on Leisure. We will then have the best possible conditions for serving our customers!"
"What gave you the idea of coming to Doha?"

PB: "In 2005, I toured the countries where we could settle down. Abu Dhabi (since Dubai was saturated)... Saudi Arabia... and in the end I went to Qatar.
Qatar was the most interesting, because it was a virgin country for this business sector, where there were already some companies, but in my opinion, based on market demand, it lacked a company that was professional. It proved to be the right choice! For Qatar sailed through the economic crisis and today we are one of the three leading companies in our field after only 7 years of presence here. Nonetheless, there are companies that have existed for 30 years in Qatar. We chose the right niche... We are now constructing the Palace of the Emir of Qatar. We are handling large prestigious projects, big hotels... We build very few villa pools for individuals.
Those who work with us look for service, a complete solution without problems. All our partners are European and American, and of the best quality. Our values are good quality, good price and good service!"
"To go back to your presence at the exhibition, how did you get the idea of this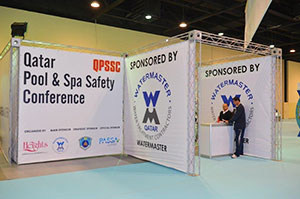 Qatar Pool & Spa Safety Conference
sponsored by WaterMaster
conference?"

PB: "For many years, I saw first hand in Qatar, and read in the newspapers, that the government was seeking to legislate on this subject. Many children drown in pools (30 to 40 deaths each year), especially in the compounds (note: private residence quarters of expatriates in Qatar), due to a lack of equipment and safety rules. There were as many drowned in Qatar as in Australia!

To differentiate ourselves, we began to equip our pools with water treatments, with automatic control of the chemical composition of the water, safety devices such as alarms, covers and barriers.

We discussed a lot, especially with government officials, including Colonel Ibrahim Abdul Rahman Al Muftah – the Head of Prevention, Civil Defence, who had heard of an incident in a school pool. In fact, chlorine was thrown into the water by hand, next to the children, which caused a serious health problem. All this led me to the idea of creating a professional pool and spa association in Lebanon and Qatar and I called it PASSA (Pool And Spa Safety Association), to promote safety and maintenance in pools, and work with governments to establish rules in Lebanon.
If we can reduce child mortality to ten deaths, or zero deaths of course, we will have achieved a kind of "miracle" here! Everyone focuses on mortality due to road accidents, but the number of deaths linked to pools is second on the list and that is still too high!
Then, naturally, the exhibition was a great opportunity to prepare a 3-day conference on these topics".

"What did this 3-day program consist of?"
PB: "The first day was devoted to studies and construction. The second day was dedicated to maintenance and security measures. On the final day, we dealt with international regulations and the proposals that we were going to present to Civil Defence so that the government could adopt them.
We got representative and well-known personalities on board such as Bill Kent of the American NSPF (former President of NSPI), Allen Wilson, Chairman of the British Association, ISPE (Institute of Swimming Pool Engineers), and Peter Alan, head of the European EUSA (representing countries across Europe).

It was a high-quality conference with representatives from the United States, Europe, Lebanon and Qatar. During the three days, discussions were held between Colonel Muftah (Chairman of Civil Defence), the Scientific Committee, with its speakers, the organizing committee of the exhibition, and myself as moderator. Nearly 300 people attended these conferences.

Following this, a final meeting was held for taking stock. A press conference announced the results of the work carried out, which was addressed to Civil Defence.
I hope that very soon, the government will adopt, as it had promised, all the resolutions we proposed. We will keep you informed".
Organizer of the Exhibition

Pierre Boueri and Colonel Ibrahim Abdul Rahman

Al Muftah - Civil Defence

Pierre Boueri

Bill Kent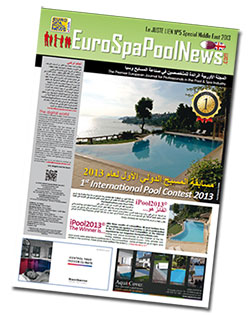 Our special edition Le JUSTE LIEN - MIDDLE EAST 2013
distributed free of cost during the QPS 2013 exhibition.