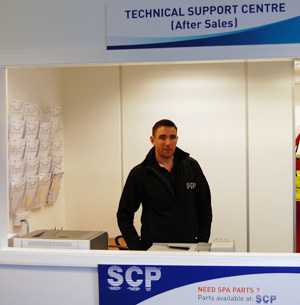 Dan Creasey - New Manager of
After Sales Service Technical departement
SCP (UK) Ltd has reinforced is front line targeting customers that use its Trade Counter Service on a daily basis. Added to this, SCP(UK)Ltd now provides a bespoke After Sales Service Technical Department which adds value and provides customer support which aims to be second to none.
The refurbished trade counter continues to offer the complete range of products in order to service and support the SCP (UK) local business network in the immediate areas. There will also be a new Water Treatment testing facility for all customers, providing 9 key results.
A documented record will be provided to each customer with specific recommendations to correct any relative issue.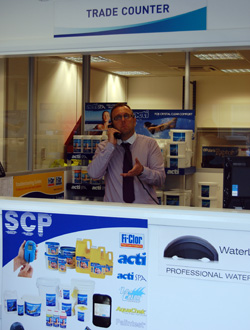 Refurbished Trade Counter
In addition there will be specific trade counter special offers, extensive product information and free complimentary refreshments.

The new After Sales Service Technical department which was set up to keep up with rising demand, is managed by Dan Creasey who will provide after sales technical service on specific vendor products as well as an offering a general repair service including Pool Cleaners .

Dan joined SCP (UK) Ltd on 2nd April and has already undergone his technical training with Maytronics, Pentair, Zodiac and Hayward to ensure a first class repair and warranty service.
Dan will also be the first point of contact for warranty issues related to SCP's Gatwick Branch on all core products.
He previously worked with SCP in its Hot Tub division in Horsham.