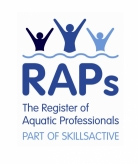 Skills specialist SkillsActive is taking stand space at the Spatex 2013 show to promote its work in boosting professionalism of employees in the aquatic sector through the Register of Aquatic Professionals.

The register aims to support training needs and career development of those working in related roles, including: swimming teachers, coaches and instructors, lifeguards and pool managers.

Stuart Wilson from SkillsActive will also be delivering a keynote speech on the register's development and launch at Spatex at 11.20 am on Monday 4 February.