Recently, at the International Interbad Fair we met Jeff Sanchez, the new Sales and Marketing Director at Pentair for Europe, Middle East and Africa. He has explained its development goals as well as the marketing strategy set up by Pentair on these three areas.

Interview by Michele RAVIZZA and Katrien Willemse (EuroSpaPoolNews).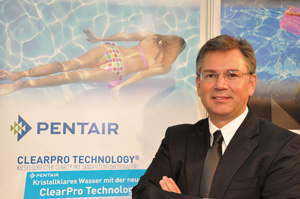 Jeff Sanchez , Director of Sales and Marketing for Europe, Middle East and Africa ( EMEA )
"We have target areas of growth
in which we would like to increase
our presence: Eastern Europe,
Middle East and Africa."
Michele RAVIZZA / Katrien WILLEMSE - EuroSpapoolNews: Jeff, First, could you tell us about your career in the pool industry and how you got to this new position?

Jeff SANCHEZ: " I have been in the pool industry over fifteen years. I started in the United States with a company called Jandy Industries, which became Water Pik Technologies. During my time there, I managed the marketing and sales functions. I left that company to join Acu-Trol Inc., as the Managing Director. Acu-Trol manufactured chemical regulators and controllers for commercial and public pools. Six years ago, I sold Acu-Trol to Pentair.

At Pentair, I managed the North American Sales division for commercial pools and Aquatics. I left to join the company Speck Pumps in the United States for two years.

I then received an offer from Pentair to take my current position of the Director of EMEA. I agreed and I moved with my family to Switzerland about two years ago."

MR/KW - EuroSpapoolNews: You are based in Switzerland now. Are you alone? Do you have your office there?

JS: "Pentair's EMEA headquarter for Water Solutions is located in Lausanne, Switzerland. The Global Business Units that serve the different water markets from filtration and pump to food service are handled by our office there.

Pentair has 100 facilities with 30,000 employees worldwide. For our pool products we have a few factories in Europe including in Belgium, Italy, and Germany. We have a large facility in Dubai and a production factory in South Africa, where we manufacture the Kreepy Krauly automatic pool cleaners."

MR/KW - EuroSpapoolNews: Jeff, could you talk about your goals in terms of marketing and strategy development for the next three years to Pentair in your area?

JS: "Pentair is recognized for its quality and innovation. We have a great and wide range of products that serve the pool industry. Our Eco-Friendly and innovative range of products is branded Eco Select. Products like the IntelliFlo, IntelliPool, Intellichlor, Clear Pro, Pro Valve, and IntelliBrite are advanced products that have many benefits including saving water, energy and chemicals.
| | |
| --- | --- |
| Some products of Eco Select brand | Eco Select logo |
We are very proud about these products and the absolute benefits to the dealers and the end consumers. These products are not only a victory for the environment but also a victory for those who use these smart products. Eco Select products will definitely enhance any pool experience.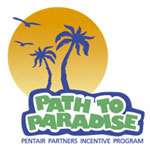 In addition, we offer a wonderful and fun incentive for our dealers. The Program is called the PIP or Pentair Incentive Program, Path to Paradise. By purchasing our products from a Pentair Distributor our dealers and builders can earn points to join us on this fantastic trip. Last year we went to the Bahamas and this year we will meet our best dealers at Costa Rica.

We also continue to develop innovative products that enhance the pool experience and add value to our dealer and builder networks. Each year we offer exciting new products.

We recently released our IntelliPool product that allow pool owners to manage their pool equipment anytime from anywhere on earth. When combined with the IntelliFlo, Intellichlor and Intellibrite, the IntelliPool will optimize the entire system for the best possible performance."


MR/KW - EuroSpapoolNews: In terms of market development, how do you see it?
"Pentair recently merged with
Tyco Flow, all over the world and
not only in the US. We become an 8 billion dollar company"

JS: "We are quite strong in Western Europe and will continue to strengthen our position. We have some areas that show growth potential, and we are expanding our presence in Eastern Europe, Middle East and Africa. It is our priority, with a view to rapid growth areas."

MR/KW - EuroSpapoolNews: Thank you Jeff. Could you tell us your vision of the pool market in a global perspective? And more specifically in Europe?

JS: "The pool market is a stable market and I am very optimistic in the EMEA area, specifically for Europe. Our product portfolio will help our dealers and builders retain their customers, find new customers and increase their share in their market place.
Since the downturn in fact, the industry has become stronger because those who survived the downturn are wiser better business people. Our industry is strengthened by it. And personally, I think this is a good development. In Europe, if the weather conditions are good, the industry thrives. Europe is refined and European consumers are sophisticated. That's why our products are very suitable for the European market. Our goal is to move forward and support our customers like no other manufacturer."

MR/KW - EuroSpapoolNews: Is there anything else you would like to share with us? Want to add something?

JS: "Pentair has recently merged with the Flow Control business of Tyco International Ltd. The combined company has revenues of $ 8 billion annually. The merger took place on October 1st, 2012. What is interesting is that there is no overlap in the markets or in products. Our ranges are complementary. We have more manufacturing facilities in addition, more staff and that makes us more comprehensive and competitive as well better position to serve our customers. This merger has strengthened our company world-wide and will help us advance in the pool industry. In fact, with this merger, 60% of Pentair employees are outside the United States. So we're really a global company.

What is even more interesting is the headquarters for Pentair is now based in Schaffenhausen, Switzerland. With this merger we became a company based in Europe.

I confident that with this merger and our combined strengths, we will be in a position to create many innovations and better opportunities for the pool industry and our customers."

MR/KW - EuroSpapoolNews: Thank you very much Jeff for this interview.