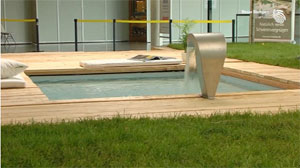 Just a few weeks before the start of interbad 2012, the European must-attend event for the industries of swimming pools, saunas and spas, almost 500 exhibiting companies are in the starting blocks.
For four days they will present new products and trends to visitors from home and abroad and exchange information and ideas with other experts in the diverse congress and framework programme.
In addition to product innovations, the current trends also in focus are: Natural Open-air Pools, Green Spa and Corporate Health Management. The developments in these segments will be presented by exhibitors in special areas and discussed in the congress. interbad, which takes place every two years, is organised jointly by Messe Stuttgart and the German Association for the Recreational and Medicinal Bath Industry.

Première at interbad: "Corporate Health" special area

Corporate health management is becoming more and more a strategic success factor for employers because psychological and physical illnesses of employees are increasing rapidly and reducing the productivity of companies. They will show how employers can invest in health care over the long term.

"Green Pool" – the formula for sustainable and environment-friendly pools and baths
The "Green Pool" topic is playing an increasingly important role in the planning and operation of pools and baths and wellness facilities.
Together with the European Waterpark Association (EWA) interbad is bringing nature to the trade fair and presents the implementation of the future trend of sustainability in various facets. In the area of architecture for example environmentally compatible construction methods and innovative materials are presented and in the technology area the focus is on heat recovery or the use of renewable energies. The design of the offer allows visitors to find out how sustainability can be implemented for all senses - from catering, to special wellness offers through to visual experience, Green Pool offers many possibilities for relaxation.
Natural Open-air Pools and Baths – growing trend in the public area

Natural pools in the public area are also an important theme at this year's interbad and will be presented at a special area. For the first time the German Society for Natural Bathing Water (DGfnB) presents a natural pool in the public area with biological cleaning. Sponsors and exhibitors will showcase their products and services in the special area. The topic is also addressed in the Speakers' Corner and in the congress.