The 6th International AQUA SALON will take place in Moscow at the Crocus Expo Fairgrounds on 15–18 March, 2012. An industry's forefront, this pool and wellness industry project is the most successfully developing meeting point for the leading local and international brands.
In 2011 more than 22,300 visitors from 20 countries and regions of Russia attended the show. The organizers declare 40% of professionals in pool, sauna wellness and spa construction together with beauty industry representatives. In 2011 the Salon played host for more than 75 exhibitors from Great Britain, Germany, Spain, Canada, Sweden, Bulgaria, Turkey, Lithuania, the Czech Republic, Ukraine and Russia.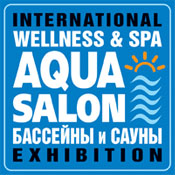 The AQUA SALON trade fair concept has gained in prominence thanks to its wide audience, who come to Moscow from all over the Russian regions to find out about the latest industry news. Decision-makers, operators and experts from both the private and public spheres are welcomed to the event with decision-maker from the public swimming pools, swimming pool manufacturers/retailers, installation engineers, physiotherapy and fitness studio representatives, planners, architects and consultants traditionally represented. Another group showing increasing interest are the Russian hoteliers and private investors who use AQUA SALON as their main platform for information about this sector. 2010 an impressive 25,000 visitors from 7 countries and 20 regions of Russia attended the fair, proving the need and interest in this show genre and particularly in Russia.
AQUA SALON Forum programm: 120 guests

In addition to the trade fair itself the first-class Forum programme is a key element in the AQUA SALON concept. The talks in different Forum modules will provide detailed know-how for decision-makers from the public swimming pool sector and for proprietors and managers of privately run swimming pools, hotels and spas as well architects. 2010 over 120 guests from 18 regions of Russia, Ukraine, Kazakhstan and Belarus attended the Forum. Among speakers 2011 famous Architects, planning engineers, swimming-pool experts and wellness consultants. The Forum will be hold for the 5 time and therefore is the only Swimming-pool event in Russia that is growing consequently.