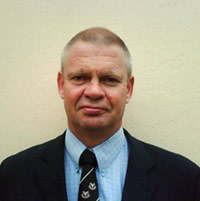 Kevi Levin, Fluidra's manager
for South Africa
The Cape Town branch is Fluidra's second office in South Africa and is another milestone in the group's move towards internationalisation, since 75% of its turnover comes from abroad.

The multinational will use South Africa as a gateway to the African continent, with sights set on sub-Saharan countries and the Indian Ocean islands.

Fluidra, the Spanish listed multinational group, which is committed to developing applications for the sustainable use of water, has opened a branch in Cape Town, South Africa's second largest financial hub. This branch comes in addition to facilities (offices and warehouse) that the group has in the north of the country, near Johannesburg, and will allow it to further its expansion into the African continent.

With a population of around 49 million inhabitants, and a surface area of 1,219,090 km², South Africa is Africa's industrial market leader. Fluidra's strategy consists in using South Africa as a gateway to other sub-Saharan countries such as Botswana, Malawi, Mozambique, Namibia, Angola, Zimbabwe and Zambia, as well as the Indian Ocean islands of Mauritius and Madagascar.

The new Cape Town branch will initially devote itself to selling irrigation and fluid handling products, and will go on to introduce swimming pool equipment in a few months.
"In a country as big as South Africa it became necessary to have a second branch, since there is a distance of approximately 1,200 kilometres between the two of them. We saw that there was a demand from our customers for a branch in the south of the country, and this is a natural step in our expansion" explained Kevi Levin, Fluidra's manager for South Africa.

The branch is 540m² in size and is located in the Brackenfell area of Cape Town. This location has very good connections to the motorway and easy access to the port and airport.

Fluidra's commitment to the African continent is demonstrated not only by its South African presence, but also by its branches in Morocco, Nigeria and Egypt.