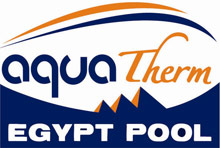 Egypt will host Aquatherm - Egypt Pool, the 7th international exhibition for the swimming pool industries. Programmed for February 13-15, the event will take place in Cairo. Eng. Essam Marwan & Mr. Adel Abd El-Ghany, the organizers, said they expected to attract about 10.000 attendees to the show's 12,000 square meters of exhibit space, at the Cairo international Convention Centre.

Aquatherm - Egypt Pool exhibition 2011
is a good opportunity for real investment push, it is organized at a time when the new Egyptian government is determined to lead a full-scale economic reform through the encouragement and support of investments. This attitude has already been reflected in dramatic cuts of custom duties. Both foreign and local investors are experiencing more security in the Egyptian market.

Mr. Adel A.El-Ghany

Executive Manager




Eng. Essam Marwan
General Manager

Given these indicators & measures, it seems certain that the Egyptian economy is likely to witness a true boom in the days to come. Due to the increasing demand for swimming pools in Egypt and the Middle East, Egypt Pool will exhibit a huge spectrum of pool and water products.
The organizers of this exhibition realize the difficulty sometimes involved in spending time to attend exhibitions. So they want to make sure the visitors will obtain a fair benefit in return for their time spent at Egypt Pool. The potential return for a participation in Aquatherm - Egypt Pool exhibition might not be easy to specify, but it is surely going to be interesting.

The managers declared that next Aquatherm – Egypt Pool exhibition will be held in February 2012 in the same place with the same activities.