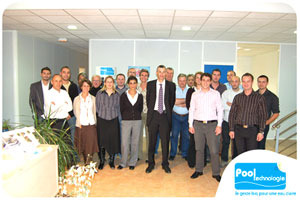 It's already ten years since POOL TECHNOLOGIE launched POOLSQUAD, the first salt/pH unit. An occasion to congratulate Philippe GRARD, who in the same year took over the destiny of this innovative SMI.
He very quickly capitalised on the company's technological lead and was able to equip it with a solid R&D department, together with a sales team was truly devoted to its very diverse clientele.
The company today carries out 40% of its activity outside its borders. As for Poolsquad, 10 years later it's as young as ever, and is still well placed in a market which is very demanding in terms of innovation.
The product has evolved, and now controls filtration with its SIMPLEO module, ensuring a constant chlorine level in the swimming pool through automatic regulation by amperometric chlorine probe.
To celebrate the event during the LYON exhibition, the manufacturer is organising a lottery in which professionals can draw lots on the POOL TECHNOLOGIE stand
for the 55,000th pool device.



Visit
POOL TECHNOLOGIE
in Lyon from 16th to 19th November 2010
(Hall 6, Stand 6D34).