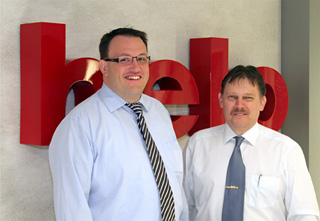 Patrick Bolte & Christoph Rzeppa



Helo GmbH in Knüllwald has now united its different brands under the umbrella brand Helo. The traditional brands Knüllwald Helo-Sauna and Finnleo Sauna merge together with the umbrella brand Helo.The managing director for Helo, Patrick Bolte
refers to the long tradition which the sauna building in the headquarters has in Knüllwald:
"After all, we have produced sauna equipment since 1973. The development of a leading world-wide company for sauna and wellbeing compels us to constant further development. Already on the border it was difficult to pronounce the name Knüllwald Helo Sauna without mistakes. In Asia or America this is almost impossible. The name Helo is expressive, friendly, and noticeable and has a high recognition value. "
Moreover, Helo has clearly developed its programme during the last few years. Today near the traditional Finnish sauna the infrared warmth cabin is very important in the programme as Patrick Bolte stresses.
With the sauna models
"Cube", "Comfort" and "Cupreme"
Helo has got into the market of premium cabins.
Bolte says
:
" The cozy and adventure room bath is very prestigious in the Helo Premium series, which it integrates without domineering. "