APF Pool Design has launched an awareness campaign concerning the use of water, with the message: "Covering means reducing". Of course, they are referring to pools and water evaporation! Covering pools is one of the solutions for this natural phenomenon that causes the need to top up pools during difficult periods of drought. Fighting against water wastage is therefore a crucial subject for the profession, one which the company has decided to tackle for the benefit of the general public.

Pool Diving: "Covering means reducing"... with style
An expert with over 30 years of experience, notably for the manufacture of covers, APF Pool Design knows all the advantages of this type of equipment inside out.
With the Pool Diving, for example, the manufacturer offers a high-end and stylish automatic cover that is easy to install. This cover with a very contemporary design includes an elegant deck covering on the bench of the underwater cover housing. The latter does not reduce the surface area of the water and creates a pleasant platform in the pool, the ideal place to sip a refreshment while sitting or lying down in the water.
From a more technical point of view, the Pool Diving is a safety device (NF P 90-308) that is easy to install thanks to standardised components and the included installation template.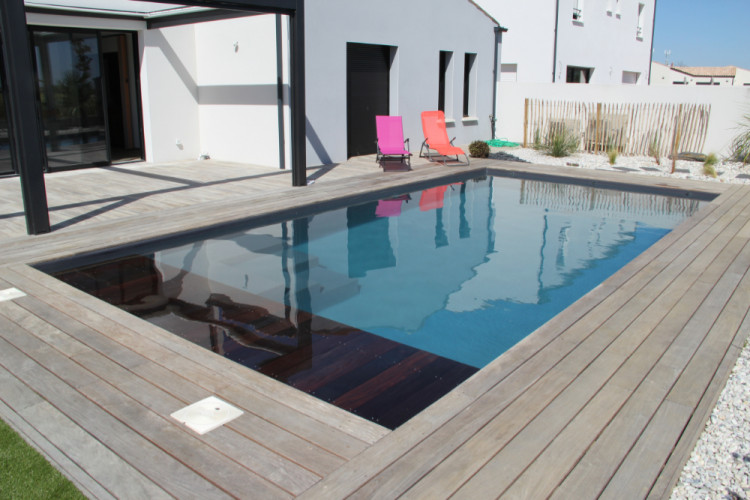 A discreet, high-end automatic cover
Clients can choose among a wide range of slat colours for their cover panel, but also to customise the deck: smooth ipe, draped deck, with a liner or reinforced membrane, or for tiling. These decks are easily clipped onto the new beams of the structure in order to reinforce safety and facilitate installation by professionals.
The Pool Diving can be fitted with the Autofix 2.0 secure closing device to give owners perfect peace of mind.