Whether for swimming training, aqua jogging or happy splashing, the turbine-driven counterflow systems from BINDER massively expand the possible uses of the pool. At the touch of a button, the pool is transformed into a genuine fitness and wellness oasis.

Expand the possible uses of the pool with turbine swimming systems from BINDER
The current from BINDER's turbine swimming systems makes it feel like you are in a river and offers the ideal conditions for effective swimming training. The broad and powerful flow rate also creates the ideal conditions for relaxing wellness exercises and exuberant splashing-around. They are also perfect for water gymnastics or health training in the context of rehabilitation.
Where pump-based systems apply selective pressure on parts of the body, the flow rate from HydroStar is evenly distributed around the body and supports it. This allows swimmers to focus entirely on their technique without losing their balance. The flow intensity can be regulated to suit the needs, allowing swimmers of all abilities to train with the turbine swimming system.
The HydroStar is likewise optimally suited to all those who really want to relax: resisting the current is a useful element of wellness exercises. And splashing with the turbine swimming system is amazing fun for kids.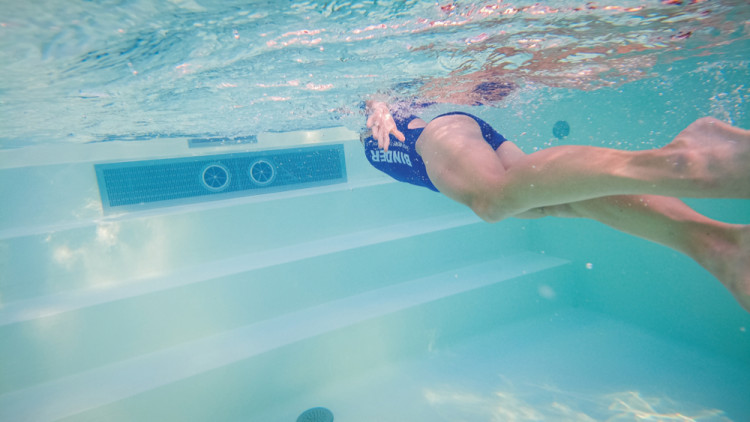 Hydrostar
The innovative counter-current system is available in many versions with flow rates of 160 to 1,200 m3 per hour. For existing pools, the retrofit system EasyStar is also available and can be installed by specialist retailers in no time at all. The systems can be controlled by remote control, piezo switch or with the BINDER24 app.
The app can also be used to control the LED lighting system, which is offered by BINDER as an accessory. It bathes the water in bright colours, creating a pool that is full of atmosphere.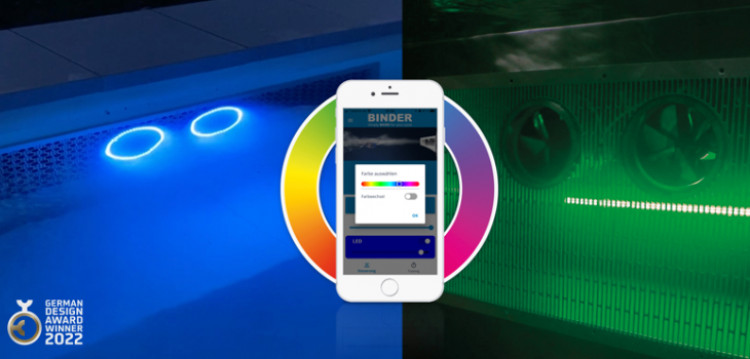 The app can control the LED lighting system