The BINDER HydroStar turbine swimming system is very popular with pool owners. Given the many different installation designs, the company has now developed a new installation shaft to make the work of specialist dealers easier. It also represents an interesting innovation for end customers.
Swimming against the current in the swimming pool: quick installation, optimised flow
More and more pool owners dream of owning a BINDER turbine driven counter-current system of their own. This is mainly due to the wide, powerful current of the systems, which enables endurance swimming even in small pools. Unlike pump-driven systems, the flow rate of HydroStar and EasyStar feels like the current of a natural watercourse.
The turbine swimming systems are sold through specialised dealers and are also installed by them. Until now, the BINDER stainless-steel installation shaft was used to install the permanently installed HydroStar counter-current system. It was specially developed for the turbine swimming system and is precisely adapted to it. However, the stainless-steel shaft weighs in at 30 kg and is therefore no lightweight.
As a result, the swimming pool technology specialist is now expanding its portfolio and launching the "lightweight installation shaft" on the market weighing just 12 kg and being easier to handle than the previous design.
Further optimized flow
The lightweight installation shaft is available for all HydroStar systems with a single turbine. It can be installed in both lined pools and GRP pools.
Measuring 360 mm in height, the shaft is slightly larger than the stainless-steel version (320 mm). Thanks to its slightly rounded back, the water flows even more easily to the turbine than before, which means that the flow pattern has been improved once again.
Also to be discovered, recently exhibited in Lyon: the HydroStar light ring and MetaTec motor with solar option of Binder.

Booking an appointment for a trial swim
Anyone who would like to test the turbine swimming systems can do so during a free trial swim at a specialist dealer (available map of Binder's partners is online), visiting Binder in Hamelin (Germany), or in Binder' showroom in Frankfurt am Main (appointment can be booked online): www.binder24.com/en/trial-swimming.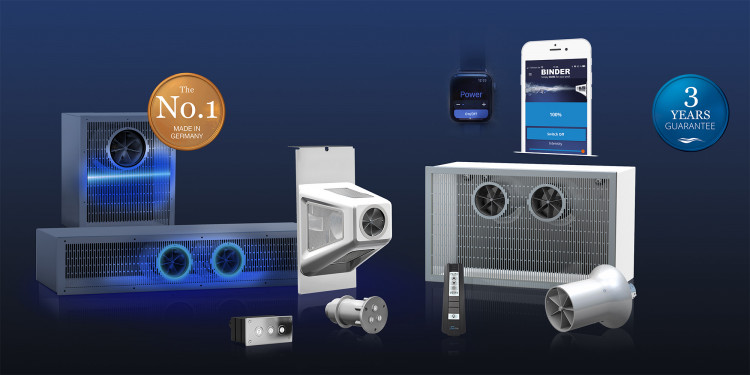 Swimming pool counter systems from Binder