Alongside other new products, APF Pool Design will present its latest innovation in Lyon: the new motorised roller for bar covers, the iScoot700. With its ergonomic design and technology, this roller is easy to handle, so you can uncover the pool quickly in less than a minute, and with no effort!
The new motorised roller for bar covers
Lightweight and easy to handle (only 4 kg), it can be operated without needing to bend down, and is suitable for both right- and left-handed people.
iScoot700 has been designed for all bar covers (up to 12 x 6m) with a standard 15 mm female roll-up socket. Stable, on its 2 wheels, it moves smoothly and silently, powered by a long-life rechargeable 24V Lithium battery. The battery lasts for up to 40 roll cycles. The battery can then be recharged from a standard mains socket. The design has been studied for ease of use, from the moment the owner receives it (delivered assembled and ready for use).
This Plug & Play roller is used after the battery has been charged, by gripping the handle to position it near the pool. The user inserts the square edge into the roller tube of the pool cover until it stops. The motorised roller is then activated by pressing and holding the central button on the handle. The roller moves on its own, dragging the cover. Once the cover has been placed on the pool (or rolled in to expose the pool), simply remove the roller and store the iScoot700 or recharge it if required.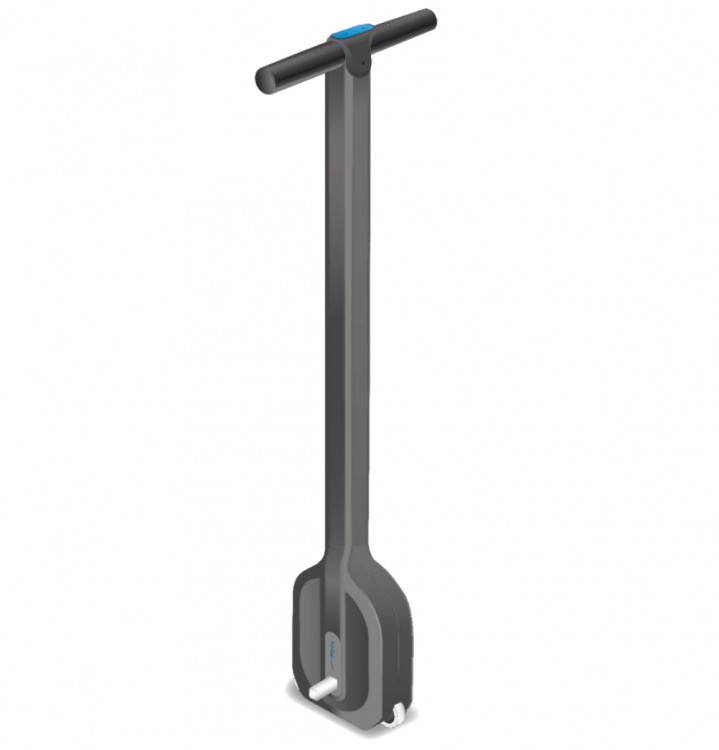 iScoot700