USSPA, one of the most recognised spa manufacturers in Europe, has developed a spa specially designed for in-ground installations.
World premiere of Lounge iN spa in Lyon
The Lounge iN spa is tailor-made, according to the customer's expectations. It has been specially designed to facilitate recessing, on a terrace or in any garden, thanks to its steel frame. Its unique design provides safe and comfortable spa access and exit with its built-in steps.
This modern spa is distinguished by its very straight, contemporary lines, favouring integration, but also by a generous space of 250 x 225 cm offering 7 seats in total.
In addition, Lounge iN combines design and functionality from the manufacturer's private and commercial series, emblematic of USSPA's «spa of the future». It brings together the best technologies of the manufacturer, which help ensure the spa has a long life, minimal failure rate and easy maintenance.
Lounge iN can be equipped with the unique automatic cover system ACS®, from USSPA. This patent protected solution has received prestigious global awards, such as Red Dot and Good Design, for its design and functionality. With ACS® the spa can be opened and closed by simply pressing a button. Elegant and functional, this cover secures access to the spa, while asserting the aesthetics of the installation. Indeed, USSPA is the first company in the world to supply their covers not only in vinyl but also in attractive fabrics or even made from metal sheet varnished in any colour.
In case of need, it is possible to combine active and passive relaxation! The Lounge iN spa can be easily combined with a swim spa for a complete experience, although the two remain independent. Thanks to the separation of technologies, it is possible to set a lower water temperature for swimming in the swim spa while keep a hot bath in the spa at an ideal level for hydromassage.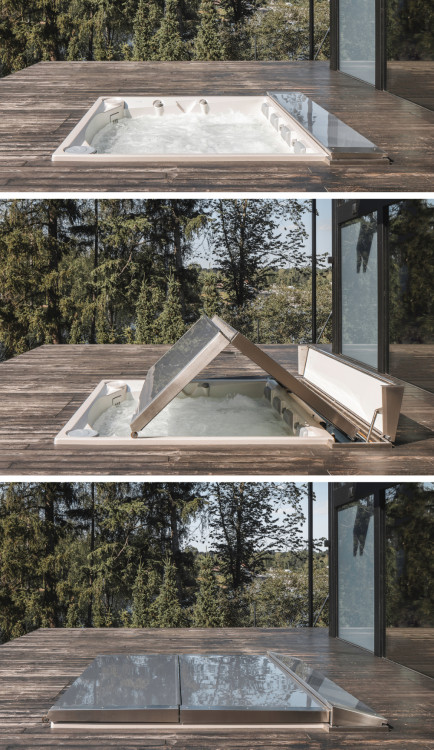 Lounge iN can be equipped with the unique automatic cover system ACS®