Swimming as if you were in a 25-metre pool from the comfort of your own home. The EVAstream makes it possible. The purpose of the EVAstream is to generate maximum flow rate. Because of this innovative approach, the flow of the EVAstream is more powerful and reaches further into the pool. It makes the effective swim zone much larger.
EVAstream turns every swimming pool into a professional training facility
Thanks to EVAstream, you can swim like in a public pool, but in the privacy of your own pool.
Challenging swim workouts
A complete training programme is available for swimmers of all ages and levels. The training sessions comprise intervals, sprint and endurance sessions with increasing duration and intensity. The changing colours of the EVA underwater lighting guides the swimmer through the training and provides orientation and motivation.
Fully in control
The EVAstream is operated from within the pool, by using the Piezo3 control. You select one of the three training programmes (sprint, interval or endurance) and set your level. One push and the programme starts at the desired swimming speed. During the training the flow speed can be increased or decreased by a simple push on the button.
Various models
Use the EVAstream selection tool to find the model that suits your pool best. All the models are available in the recessed or surface mounted (plug-and-play) version. EVAstream meets the strictest quality and safety requirements of international safety regulations for private swimming pools (EN 16582-1) and public swimming pools (EN 13451-1).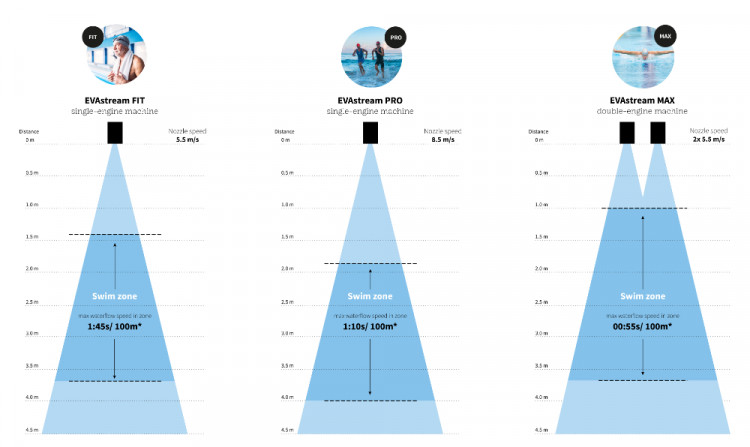 *waterflow speed is not the same as swim speed. Swim speed depends on body size and mass