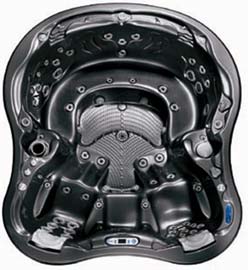 Dimension One Spas' Amore Bay comfortably accommodates up to 7 persons and stands out from the crowd because of its distinct massage areas, including a multi-level playground in which everyone can move about freely.

The Amore Bay features Dimension One's unique curvilinear design and includes a great deal of flexibility and diversity in the massage experience, thanks to the positions and types of specific buses provided.
The hot tub includes an UltraLounge® for her and UltraLounge® for him, two wrap-style, semi-reclining seats that have perfect ergonomics and offer an ultra-relaxing hydrotherapy experience for back, calves, lumbar, neck, plantar arch and wrists.

Both UltraLounges include D1's patented NeckFlex™ Jet System, the height-adjustable neck and shoulders massaging system. The system features a curved pillow that cradles the neck, five adjustable heights for any size of user, and four adjustable jets with water-volume and nozzle-angle controls.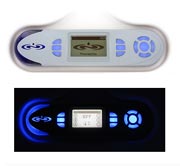 One of the seats is equipped with
D1's Dynamic Massage Sequencer
, the world's first programmable hydrotherapy hot tub system.
It features
six specific therapy zones,
a digital control panel with active therapy display, pause control that allow users to target specific pain areas, and speed control that adjusts the massage sequence either up or down the body.
Amore Bay includes as standard D1's patented UltraPure PLUS™, the hot tub industry's premier water management system. This ultra-advanced water sanitation system delivers higher level of water disinfection. It won D1 the industry's first-ever UL listing for an ozone system that can operate while people occupy a hot tub!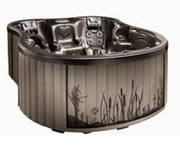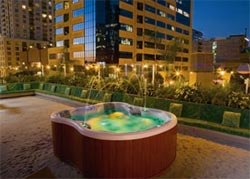 The Amore Bay also features the transformative use of lights, sights, sounds and colors to evoke a transcendent hot tub experience!
Seating Capacity: 7 Adults
Jets: 62 Jets
Dimensions: 108"L x 92"W x 40"H/ 275 cm x 234 cm x 102 cm
Weight: DRY 1011 lbs/459 kg - FULL 4467 lbs/2026 kg
Water Capacity: 415 Gallons/1571 Liters
Electrical: 60 Hz (North America): 240V, 50/40A 50 Hz (Europe): 240V, 2x16/1x32/3x16A
Pumps: 60 Hz (North America): 1 x 3.6/(2.0) HP Dual Speed Pump and 2 x 3.6/(2.0) HP Single Speed Pumps. 2 x Circulation Pumps 50 Hz (Europe): 1 x 3.6/(2.0) HP Dual Speed Pump and 2 x 3.6/(2.0) HP Single Speed Pumps. 2 x Circulation Pumps