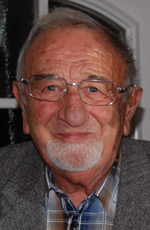 The founder and historical leader of GRANDO in Germany was, since 1963, at the origin of several innovations in the swimming pool sector.
He developed a fully automatic slated rolling cover system for pools (helping to maintain water temperature for a longer time and protect pools from the major polluting agents).
This was a real innovation at a time when the public had not yet started to pay attention to energy saving and environmental protection.
Today, the family business he founded exports its slatted covers to 54 countries.
In 1996, Robert Granderath handed over the reins of the company to his three sons, although he continued to be a counsellor and source of inspiration for GRANDO until the end. During this time, the third generation has also become actively involved in the company. Technological advances and changes in society have led to new developments in Grando's products and strategy. Even today, the pool covers are manufactured in Germany. If it was important for Robert Granderath to develop a pool cover really unique in its category, it was as important to him to look beyond the perimeter of his business and work in the interests of the sector as a whole.

Not one who liked to take centre stage, he entrusted his son, Bert, with the task of promulgating Grando's commitment among professional associations and standardisation bodies. Next year, the pool cover developed by Robert Granderath will celebrate its fiftieth anniversary.

All the members of the EuroSpaPoolNews team express their sincere condolences to Bert Granderath and to all members of his family.

Loïc BIAGINI