New system entirely designed and manufactured in Austria by Peraqua
Peraqua® presents the new system brick - 100% designed, developed and made in Austria - for the basic pool construction in individual sizes.

Extruded polystyrene block for swimming pool construction
With a specially developed design, Ocean® Brick meets all requirements for pool construction. Based on a commercial standard brick, Peraqua® have optimized the system for maximum safety, fast installation and practical handling.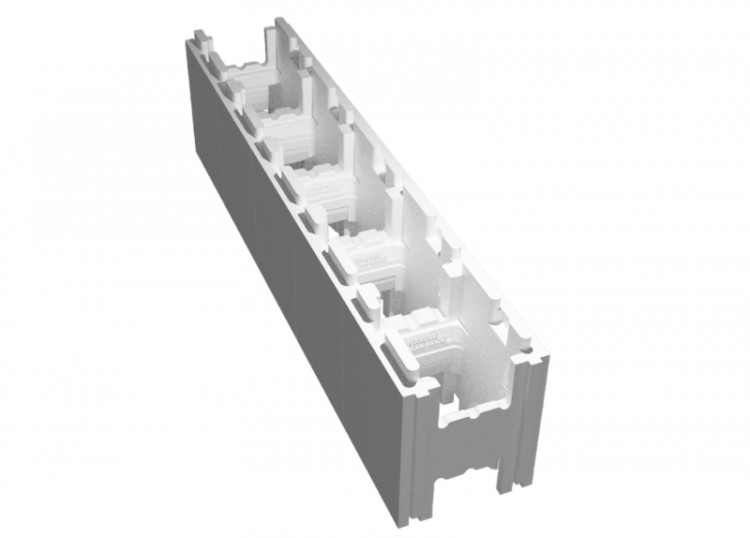 Ocean® Brick
Using a finite element method (FEM), algorithms calculate the overall behaviour of the brick under pressure from the behaviour of individual sub-areas. In this way, critical tension points could be found and prevented in advance through appropriate constructive measures.
When developing this new product, one of the basic principles was to redesign the inner bar in order to reduce the risk of breakage when filling with concrete. The solution was a reinforced inner bar with stress-optimized transitions to the sidewalls and integrated slopes to support the concrete distribution. Three integrated guide gutters give the reinforcement iron sufficient support.

Construction of a swimming pool with the new Ocean® Brick system
Optimal security during installation
Two frontal connecting bars and grooves facilitate the dry connection between the bricks. When connecting the individual bricks, a tongueand- groove connection is used. This reduces the risk of squeezing out when filling with concrete. Extra high and wide connecting bars guarantee an optimal and firm connection for more safety during installation.

The blocks are assembled by tongue and groove
The unique shape of the inner contour also improves the insulating effect and reduces the volume of concrete required. An Ocean® Brick's dimensions are 1250 x 250 x300 mm and is designed to be divisible in 250 mm sections. The integrated notch or markings facilitate the division of the bricks on site.