Natural Pool Series: a range of premium products and services exclusively for professionals
For over 25 years, Pool Technologie has been designing, developing and manufacturing automatic treatment systems for private and commercial swimming pools, driven by an approach of technical, social and environmental innovation. In fact, all the services and products offered by the company follow an eco-friendly approach, from development up to the after-sales service and including manufacturing, but also in its choice of responsible local partners, which it uses to transport its goods.
Pool Technologie has now completely redesigned its range of treatment devices for residential swimming pools. Its next-gen salt chlorinator/pH regulator combo combines its latest technical and functional innovations. The new Natural Pool Series is here.
Mechanical innovation
This new range of chlorinator and pH regulator combo devices reveals new streamlined curves with a decidedly modern and minimalist design for a compact, high-tech looking box.
Its wall fastening built into the box, as well as its fully removable connectors, make it easy to use in any machine room set-up.
The pH metering pump is ingeniously hidden in the front of the box. Part of the new generation of pumps, it is also very quiet.
To improve safety, the box has been designed with a high waterproof rating and optimised heat loss. The result is that the electronic components are protected from corrosion and energy efficiency is improved.
Its old, large, heavy copper transformer has been replaced with a switch-mode power supply, the size of a circuit board, helping make it one of the lightest combo chlorinators on the market.
Electronic, ergonomic innovation and connectivity
The company's R&D+I team has developed a mini circuit board with a next-gen processor. The power and performance of the chlorinator are improved, while the storage memory is boosted and the device's response time is almost instant.

This new circuit board also offers new features, such as communication with e-Pool CONNECT: filtration and auxiliary equipment control (spotlights, pool cleaners, etc) or even Bluetooth connectivity (BLE) as standard, making it a high-end solution for a connected, remotely controllable swimming pool.
The Modbus built-in communication protocol also lets you exchange data collected by the device.
Software updates can be done remotely.
Dedicated shutter and flow connectors have been built into these chlorinator/pH regulator combos: making it easier to install a flow sensor and a pool cover connector.
As for ergonomic innovation, it lies in several points:

The backlit LCD visual interface provides clear intuitive navigation.
The programming and navigation are easily done on the modern soft-touch keyboard.
The "menu" and "boost" shortcut buttons go straight to the basic settings.
The benefits for the user
A new generation of lightweight and compact devices that offer better performance and take up little space in small machine rooms;
A more powerful next-gen circuit board opening up new features;
An ultra-modern design and an ergonomic box;
Removable connectors;
An LCD graphic screen with intuitive navigation and a backlit screen for darker machine rooms;
A silent and discreet pH metering pump built into the front of the box;
Safe electronic parts and protection against corrosion;
Switch-mode power supply for better energy efficiency and environmental protection;
Connected to a home Internet network, so the device lets the machine room communicate.
With eco-designed products, consumers get more for their money while still looking after the planet!
These devices are suitable for a wide range of pools: under 30 m3 to over 150 m3, whether being built or renovated.
The environmental approach of Pool Technologie - Interview of the CEO Philippe GRARD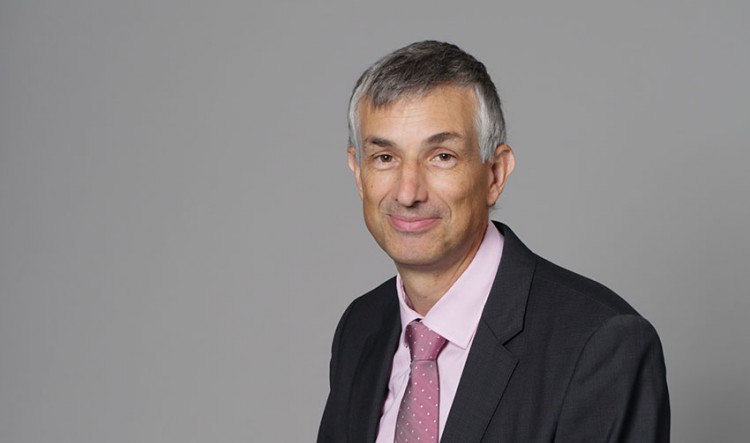 Philippe Grard
Pool Technologie is committed to its environmental approach. What does this involve?
Philippe GRARD: Our ambition is to combine customer satisfaction and environmental protection. We launched an eco-designed approach in 2011. Our R&D+I team is continuously developing processes to design and choose materials and parts that aim to make less bulky, less energy-intensive and more resistant products.
Can you give us a concrete example?
P.G: Our old, heavy, bulky transformers have now been replaced by a compact switch-mode power supply, with optimised power management. Based on its working principle, the switch-mode power supply offers better efficiency, which drastically reduces heat loss and allows the device to save a considerable amount of energy. We are fighting the scourge of planned obsolescence in devices by offering our customers more efficient products with next-gen parts that are also more durable, repairable, upgradable with software updates, or even backward-compatible for all generations of devices. All of our production takes place at our workshops in Valergues, which means we can control the entire chain, from design to manufacturing and even the after-sales service. And we don't stop there. We also prioritise local partners so we are part of the local economic fabric, with responsible carriers.
You are also very committed socially.
P.G: Exactly. Pool Technologie is constantly trying to improve working conditions for its employees by adopting various initiatives for their well-being and progression at the company: various relaxation areas (even a large vegetable garden so they can grow their own vegetables), lean management, training plans, profit sharing, etc. It is important for us to have a strong team spirit and a feeling of belonging to a corporate culture in order to support our development with the most success and under the best conditions possible.